Re:CreationArt Exhibition – Giving Back to the Mother Earth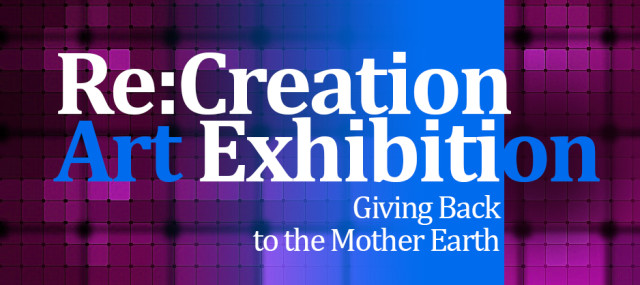 Pemanasan global bukanlah isu baru di telinga kita. Namun berapa banyak dari kita yang sudah beraksi untuk mengatasi isu tersebut? As a designer, here's the least we can do. We proudly presented the Art Exhibition:Re:Creation, pameransenidaribahandaurulang.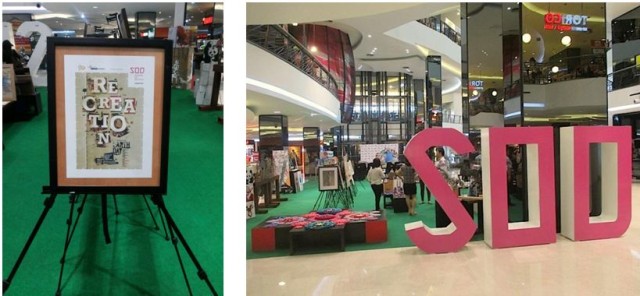 PameranRe:Creation yang diselenggarakan di FX Lifestyle X'nter,Senayan, Jakarta,tanggal 11-18 Maret 2014 dan Living World Mall, Alam Sutra, tanggal 27-29 Maret 2014 menjadi saksi mata bagaimana sampah yang dianggap sudah tak lagi berguna bertranformasi menjadi karya seni.

Para pengunjung disambut oleh sebuah robot kontemporer berbahan dasar kardus, botol dan keping cd bekas.Berbagai ilustrasi imajinatif maupun dekatdengan kehidupan sehari-hari menghiasi tubuh sang robot. Monster-monster lucu berbahan dasar kain bekas pun tak mau kalah memikat hati pengunjung. Komposisi keset-keset warna-warni membentuk harmonisasi warna dan bentuk yang memanjakan mata. Keset-keset tersebut merupakan produk dari Keset kibee, pengerajin UKM di desa Pringapus, Ungaran, Jawa Tengah yang memanfaatkan limbah garmen.Tak hanya ketiga karya seni tersebut, masih banyak lagi karya menakjubkan yang memanfaatkan bahan daur ulang seperti halnya furnitur, tas, foto-foto fashion kontemporer, hingga perhiasan dari kain perca.

Re:Creation membawa para pengunjung berpetualang ke dunia di mana barang-barang yang dianggap tak lagi berguna mampu menjadi sesuatu yang berharga. Recycle, reuse and reduce; those're 3 basic things we can do to save our mother earth.Pameran ini merupakan bukti bahwa desainer bukanlah profesi yang berkutat dengan keindahan semata melainkan mampu memberikan solusi bagi permasalahan yang dihadapi secara nyata dalam masyarakat. Lebih dari sebuah karya seni, desainer mendesain kehidupan yang lebih baik untuk masyarakat.So that's our little action to give something back to the mother earth. What's yours?