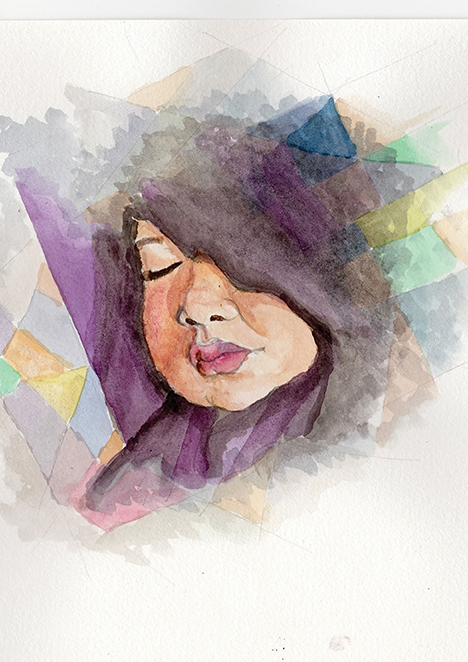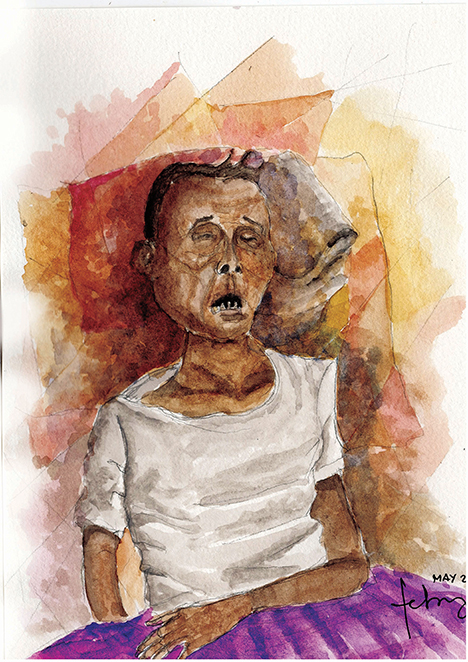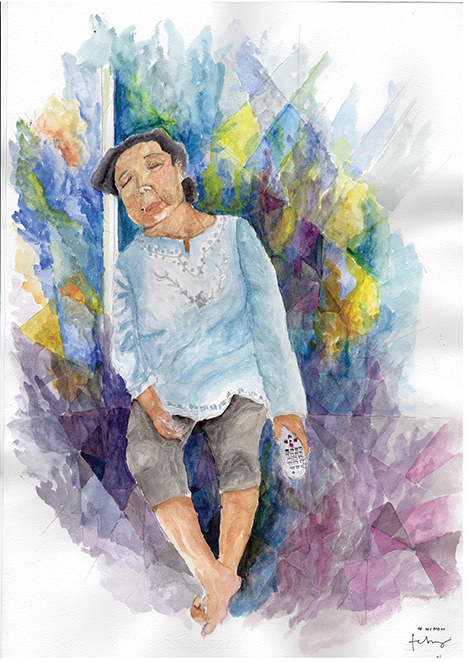 These artworks are selected for online display.
—————————————————————————————————————————————–
The title of my work is "when they are asleep". It is by using a manual drawing technique with watercolor paint media.
The object that is in the work is my family, namely mother, niece and the late grandfather. It is the three different generations in the family. This concept arises because I see something different, something pure and it reminds me of the nature of life, when I see someone asleep, especially my own family.
In picture 01 "when mother is asleep", she is still holding the TV remote, at that time it is still at 08.00 PM. When her favorite show begins, she is asleep in a sitting position and leaning against the wall. Though, she has been waiting the show all day. Why is she asleep? But it is still at 08.00 PM and she is ready to watch her favorite show. It happens because from dawn she has been up and she has been doing all the housework that never ends. She takes care of us, her children, her husband and her favorite grandson. We eat and have the energy to work because of the cooking that she has made, and certainly other things that can get us to go through our activities normally. When she wakes up, we often disagree about one thing or another. We often argue, we often cry because we are annoyed with each other. But all that, that all feelings, are disappeared when I see her fall asleep. Seeing her while she is asleep makes me think back the way she loved me when I was little. A deep affection of mine, need her and do not want to lose her even for a little while.
In picture 02 "when my dearest nephew is asleep". At that time I continue to thank God for giving him in our family. At the same time, there is always a feeling of not losing him in any way. At the same time, it makes me happy, but I am also very fragile because I am afraid to lose him. It is then that I try to pray to God to always take care of this little boy. Seeing his face while he is asleep, makes me pray to God that I am given the strength to protect him from an insecure world.
In picture 03 "when my grandfather was asleep". When he was asleep, I saw an exhausted face. Even for breathing, he seemed to need energy. At that moment, when he was asleep, I remembered, when grandfather was still healthy, with his enthusiasm, he told of his struggle as a teenager against the rebels in the Dutch and Japanese colonialism in his hometown. He was very excited about telling the events to his grandchildren, in a loud voice and interspersed with laughter. At that moment the lights in his house were dim, we remembered his face was wrinkled red because of the proud feeling to tell that he had once defended the country against the colonialists. Now he has gone, leaving the world, leaving the country he had defended once, leaving his grandchildren who loved his heroic tale. When my grandfather was asleep, I saw the fighting spirit and pride as a human being who defended his country, once when he still had the strength as a youth.
—————————————————————————————————————————————–
Name:
Febry Maharlika
Institution/University:
Universitas Komputer Indonesia (UNIKOM)
Category (student/lecturer):
Lecturer
Email:
febry.maharlika@email.unikom.ac.id
Facebook:
febry maharlika
My name is Febry Maharlika, I was born in Singaraja on February 13, 1986. I am the fourth of four children. My mother is a housewife, while my father is an accountant. After graduating senior high school in SMUN 6 Bandung in 2003, I worked in a studio in Bandung city. It is called Sanggar Kanvas Rumah Kuning/The Canvas Studio of Yellow House. My position in the Studio was as a tutor art. There, I taught children aged 5-13 years, with the teaching materials of drawing, origami and workshop.
In 2005, I signed up to Unikom Bandung, and started my college as a student majoring in Interior Design of Unikom. At that time I divided my time between college and work in the studio as a tutor art.
At the time of college, I was very interested in the traditional culture of Indonesia. It was contained in my Final Paper which discussed the symbolic meaning of ornaments in Pura/the Hindus temple, especially in Pura Agung Wira Loka Natha, Cimahi. Thanked to my interest, it was responded well by the lecturers in Interior Department of Unikom.
In 2009, I graduated from Unikom with cum laude predicate. After graduation, I worked in an interior consulting company, PT. Spacindo Makmur on jl. A.Yani-Bandung. I worked as an interior designer here, and sometimes I was asked to go to the field for design checking. During my work in the consultant, I worked on the design projects for residential, commercial building interiors, offices, and so on.
In 2010, I started teaching at Interior Department of Unikom as an LB/part time lecturer. At that time I had 2 jobs, namely in the consultant as a designer and in Unikom as a lecturer. After a year as an LB lecturer, I became a permanent lecturer in Interior Department of Unikom. And finally, in 2011, I started as a full time lecturer, and in 2012, I was appointed as a permanent lecturer.
In 2012, I continued my S2/Master Program study to ISBI Bandung (Institut Seni dan Budaya Indonesia/Institute of Art and Culture of Indonesia) and graduated in 2014. The discussion of my thesis at that time was still about Balinese ornaments at Pura, however, the discussion was developed on the spatial relationships which is formed from the symbolic meanings that exist in every building in Pura. After running the Tridarma of college, finally in 2016, I got my functional position as an expert assistant.