THERE'S NO FINISH WORLD AT THE WORLD OF INNOCENCE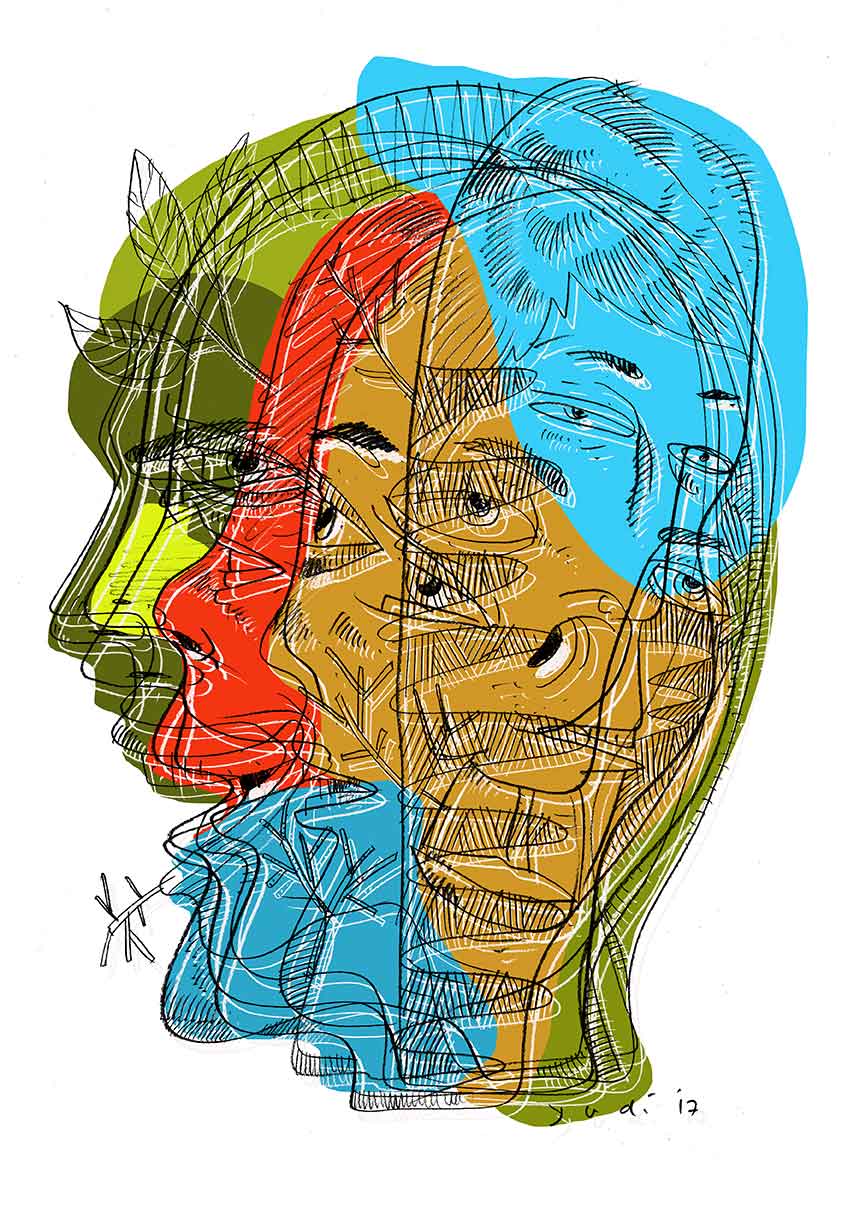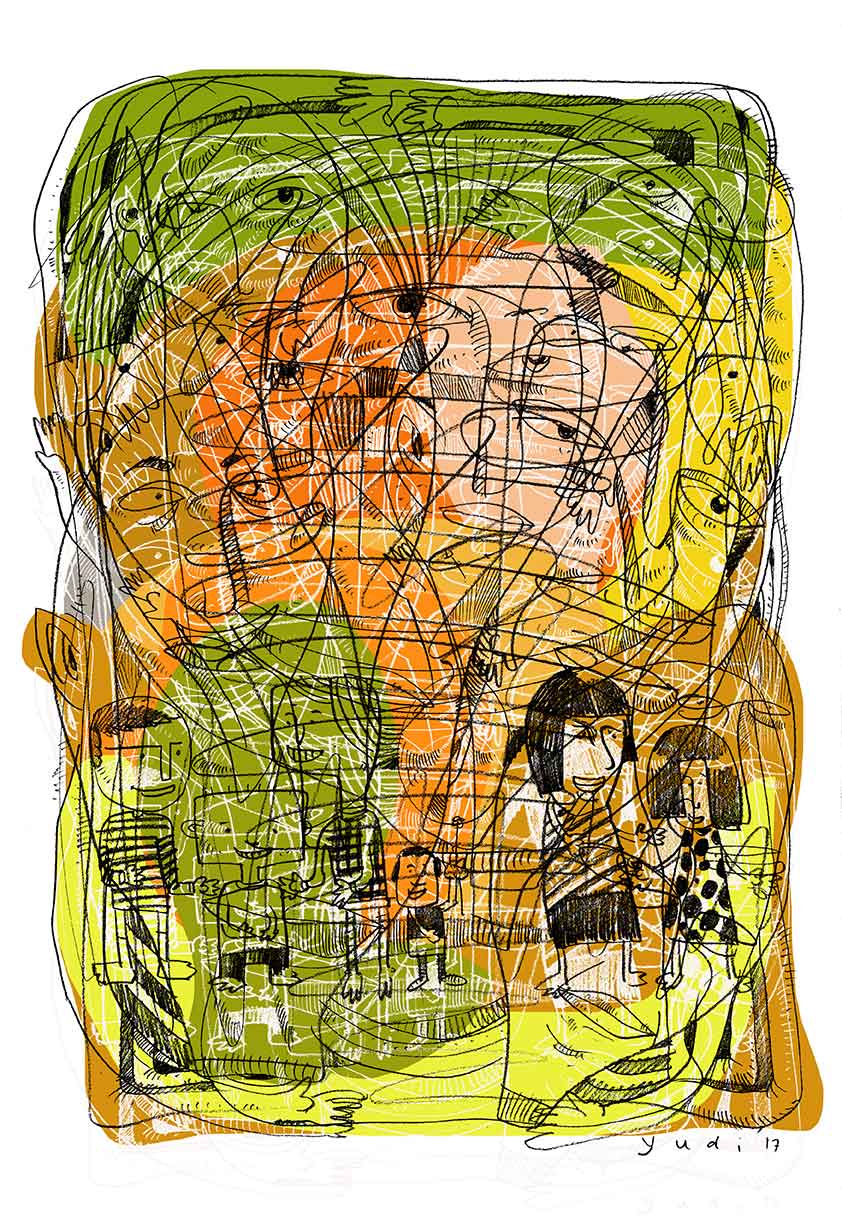 These artworks are selected for online display.
—————————————————————————————————————————————–
Series 1 : Head (2017)
27,9 x 42 cm, pencil and Digital 
Series 2 : Man and Woman (2017)
27,9 x 42 cm, Pencil and Digital
Series 3 : The World (2017)
27,9 x 42 cm, Pencil and Digital
 "There no finish world, at the world of innocence." Inspired by the title of the artwork of French Surrealism Painter; Andre Masson (1942).
 I made this in 3 series. Series 1 : Heads, Series 2 : Man and Woman, Series 3 : The World.

How does one artwork, show the extraordinary range of possibilities that collect in the hollows of things, whose meaning is always complex and shifting? Establishing connections between series of this artworks means freeing one\'s imagination, knowing how to break loose from references and landmarks, letting one\'s emotions and reminiscences spring to life so as to map out a personal space and let it be perceived.
 This is part of my tribute to master of Surrealism Drawing from 20's era : Andre Masson. He began noticed with his technique doing, what art world called: Automatic Drawing.
—————————————————————————————————————————————–
Name:
Wahyudi Pratama
Institution/University:
Bina Nusantara University
Category (student/lecturer):
Drawing Artist/Lecturer
Email:
wahyudi.pratama@gmail.com
Website Link:
https://www.saatchiart.com/account/profile/918165
Social Media:
instagram.com/wahyudi77
Instagram.com/portrait.drawing
Born in Lampung, South Sumatera, on September, 12th ,1977. Then he pursued his academic deegre in fine art in Institut Technology Bandung (ITB), West Java. Majoring in Fine Art, Print Making in 1996 until 2001. Then, continued his master in Fine Art, still in ITB from 2003 – 2005. Also work as Web and Creative Director in IT Consultant and doing his job as an Artis. Since 2009, he left his career in Information Technology and doing his dream as a lecturer and visual artist. Untill now, he still active and making or participate in several exhibition, every year.
Several exhibition in last 2 years :
Tak Kie Project: Recollecting Memory, Group Exhibition with 6 artist, in Traditional Kopitiam in Glodok, Jakarta. (2015)
KILLSKILL: Explorasi Visual Atas Keberanian. Group Exhibition. Suar Art Space, Jakarta Selatan. November 2015
As a Kurator. Solo Exhibition: Yati Mariana Garnadi; " Memory, Color and Historia", Medco Building Energy, SCBD – Jakarta Selatan, Maret 2016
KILLSKILL: Napas Lama. Group Exhibition. Sarasvati / Roemah Seni Sarasvati, Bandung.  Maret – April 2016.
Zona#1 – Versi Resepsi, Group Exhibition. Seniman Jawa Barat, Bandung Indonesia, Dago Thee Huis. Agustus 2016.
Festival Extrakurikulab. Dr. Rudolfo Class. Serrum studio. Subject theme : Drawing lesson. Gudang Sarinah, Pancoran, Jakarta. November 2016
International Illustration Academic Forum. Indonesia – Czech – Pakistan – China. Arjuna Gallery, Jakarta, November 2016
Bandung Drawing Festival, Nu Art Gallery, Sarijadi Bandung . Mei – Juli 2017.
"For The Next Generation". Mei 2017. World Graphic Designer (WGD), Collaborating Artist with Designer. 79 Designer | 25 countries | 53 posters. Euclid School, Thessaloniki, Greece.