Visual Experience: Semua Dimulai dari "I" (Intention)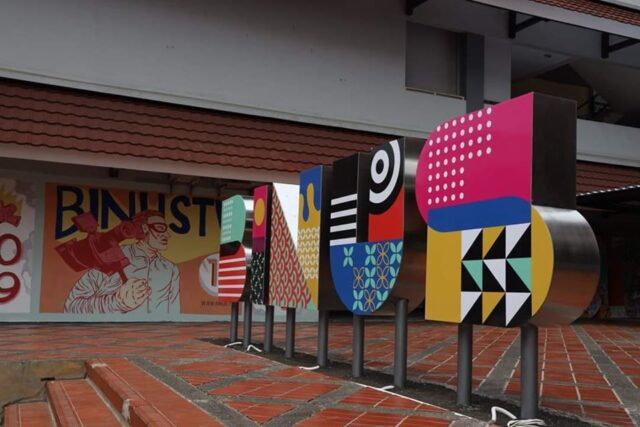 Dear All,
Entah kenapa Bapak2 ini memasang huruf "I" lebih dulu dari huruf-huruf lain. Mungkin hanya kebetula atau kami cock-cocokkan saja. Maklum di dunia ini penuh sekali simbol dan hal-hal yang meimiliki makna yang beragam. di Dunia seni sering sekali bahwa sebuah karya seni meliputi materi dan pemaknaan di dalamnya. Sebagai bagian dari komunitas pendidikan seni rupa dan desain, kami pun memiliki pembiasaan untuk menempatkan makna dan rupa dalam karya.
Tapi setidaknya lantaran ini jadi catatan khusus. Bahwa sesuatu itu sangat bergantung pada niat (intention). Termasuk sebuah brand seperti Binus. Bahkan per individu dengan perbuatan yg begitu sederhana sekalipun, niat yg besar akan mempengaruhi result nya.
Kalau temen2 mampir ke Kampus Syahdan, ada landmark baru yg ikonik, hasil desain Hagung Kuntjara yg selalu CAkep niat dan langkahnya. Hagung Kuntjara yang juga sebagai Head of Program Creative Advertising memang sangat piawai dalam menciptakan visual yang menandai peristiwa maupun venue sehinggu lebih memunculkan cita rasa seni yang meresap. Hagung Kutjara dan Noor Udin Ung, Arif Priyono serta dosen-dosen lainnya sudah terbiasa berkolaborasi bersama unit dan program lainnya dalam menciptakan visual tanda untuk berbagai kegiatan "Fostering and Empowering" Binus University.
Terima kasih Pak Tunjung Riadi dan Lateevhaq untuk fotonya yang keren.
Salam Kreatif!