The Power of Local Insight Towards Creative Advertising among Millennials and Gen-Z
Jika pada bulan Juni lalu mahasiswa CA Binus mendapatkan kesempatan untuk berkolaborasi dengan mahasiswa De Montfort University, Inggirs, maka pada bulan Okober 2018 perspektif mahasiswa akan dunia periklanan global kembali dibuka oleh Pak Asawin Phanichwatana, Executive Creative Director, GreynJ United, Bangkok.
Berbeda dengan sharing session sebelum-sebelumnya, pada kesempatan kali ini Pak Asawin banyak bercerita mengenai insight generasi millennial dan generasi Z. Pemahaman ini dirasa penting karena segmentasi pasar untuk konsumsi iklan dan kampanye banyak di dominasi oleh dua generasi tersebut. Tak perlu diragukan lagi, Thailand terkenal dengan iklan-iklannya yang lucu dan juga menyentuh hati, sebab para tim kreatif paham betul permasalahan dan tingkah laku para pemerhati iklannya. Satu kalimat yang terus diucapkan oleh Pak Asawin kepada mahasiswa CA Binus, "To be creative, you should become human being first!". Untuk mengerti perspektif dari beragam macam manusia, hal yang paling mudah yang dapat dilakukan adalah memperbanyak pengalaman bagaimana menjadi 'mereka'. Tanpa pengalaman, insight akan sulit didapatkan (karena semua hanya akan menjadi asumsi). Hal selanjutnya yang perlu dilakukan adalah perbanyak observasi dan analisa sosial media. Sosial media adalah media yang tak bisa lepas dari generasi millennial dan generasi Z. Tak sedikit dari mereka yang memperlihatkan kehidupan pribadi, opini, kebutuhan, serta cita-citanya di sosial media.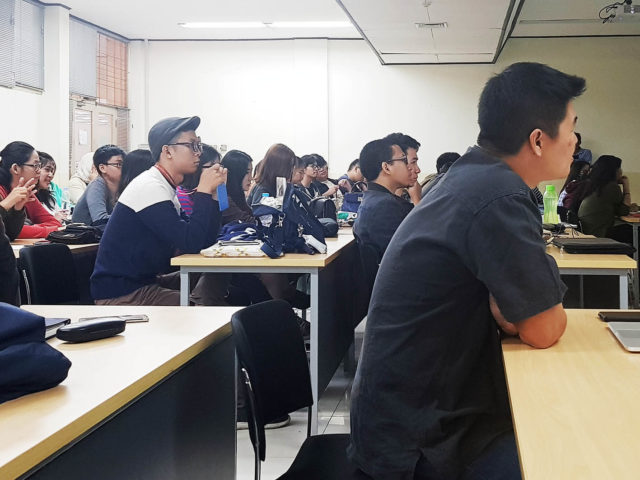 Selain sharing session, Pak Asawin juga memberikan pelatihan 2 hari kepada beberapa mahasiswa untuk mengerjakan creative brief yang diberikan sama semua kelompok. Hal unik yang terjadi selama proses pelatihan adalah bagaimana mahasiswa bekerjasama diluar zona nyaman mereka dikarenakan mereka tidak dapat memilih partner kerja mereka, melainkan lewat sistem undian. Dalam hal ini Pak Asawin menegaskan bahwa sebagai pelaku kreatif kita harus bisa cepat beradaptasi dengan orang-orang yang mungkin tidak sepemikiran. Bagaimana menurunkan idealism, mengatur waktu, dan yang terpenting saling mengembangkan ide, tidak membunuh ide satu sama lain.