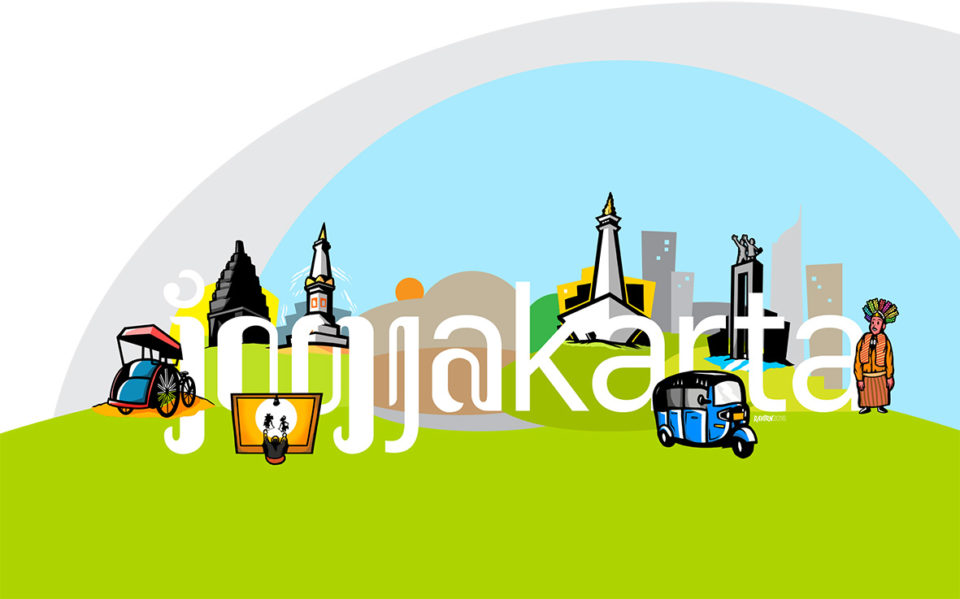 by:Rina K. Maudhy +Vedran Morelio
'JogJakarta' is a combination of YOGYAKARTA (widely known as city of 'JOGJA'), a special district province located at the central of Java island, and JAKARTA, the special district province of the capital city of Indonesia, located on the  western part of Java island. Both cities with its respective uniqueness are the birthplace of Rina and Lio, and became the 'hometown' of them. The illustrated typography of 'JogJakarta', consist of two different typeface and its in-between transformation.
An inspired Javanese traditional letter of Hanacaraka typeface applies in 'JOG' visualizes the strong traditional cultural heritage of Javanese kingdom which live soulfully in Yogyakarta.
The 'JA' part, which is the transformation part between two different typeface, represents the balance of traditional and modern living of the people of the two cities. It is the common lifestyle of the most Indonesian at large, with its multi-ethnic and multi-cultural diversity.
As one of the global metropolis city, Jakarta's lively spirit represents by 'KARTA' part. It visualizes by a sans serif typeface that deliver the modern-practical values.
The visual element illustration itself enriches the typography by the hallmark of each city, of its landmark, local culture (Jakarta is the hometown of Betawi ethnic), as well as its local transportation.