Creative Study with Creative Method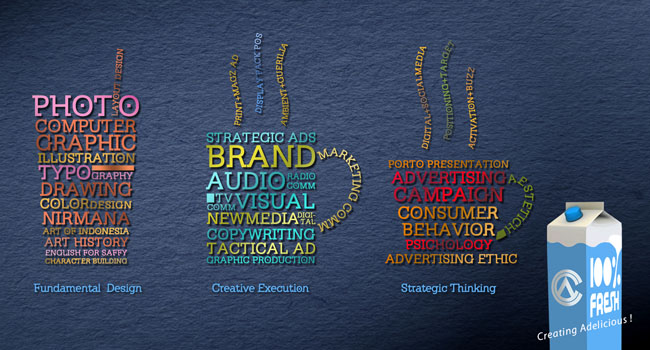 Pengajaran di program Creative Advertising disusun bertahap layaknya anak tangga, mulai dari tingkat Fundamental hingga tingkat Advance, dengan metode pembelajaran kreatif yang menyenangkan.
Mahasiswa diutamakan melakukan dan mengalami sendiri secara praktis apa yang diajarkan dalam teori lewat tugas-tugas studio, grup diskusi dan tim work yang seru.
Secara tahapan pembelajaran perkuliahan dapat dikelompokkan dalam 3 yakni Fundamental Knowledge & Design, Creative Execution dan Strategic Thinking.
Ditambah penguatan character building, enterpreunership, kecakapan good presentation in english dan kesempatan magang di industri Advertising… seluruh rangkaian perkuliahan hingga final project adalah A – Z Creative Advertising experience yang akan membentuk watak kreatif dan proses menemukan keunggulan setiap individu – bekal terjun di dunia professional.
Let's get seriously having fun with CA Curriculum !