IAIF 2017 Pameran Seni Akademik International di Hubei – China
Intercultural Academic International Forum (IAIF) 2017, sebuah proyek kolaborasi pameran seni internasional yang diikuti akademisi (dosen & mahasiswa) yang diprakarsai oleh School of Design – BINUS University, diselenggarakan oleh ONE Peak Culture & Media, dan didukung School of Art & Design – Hubei University of Technology, China.
IAIF 2017 diadakan pada musim panas ini, tanggal 10 – 20 Juli 2017 bertempat di ONE Space Gallery, terletak di Creative Capital Distric, Wuhan, Hubei – China.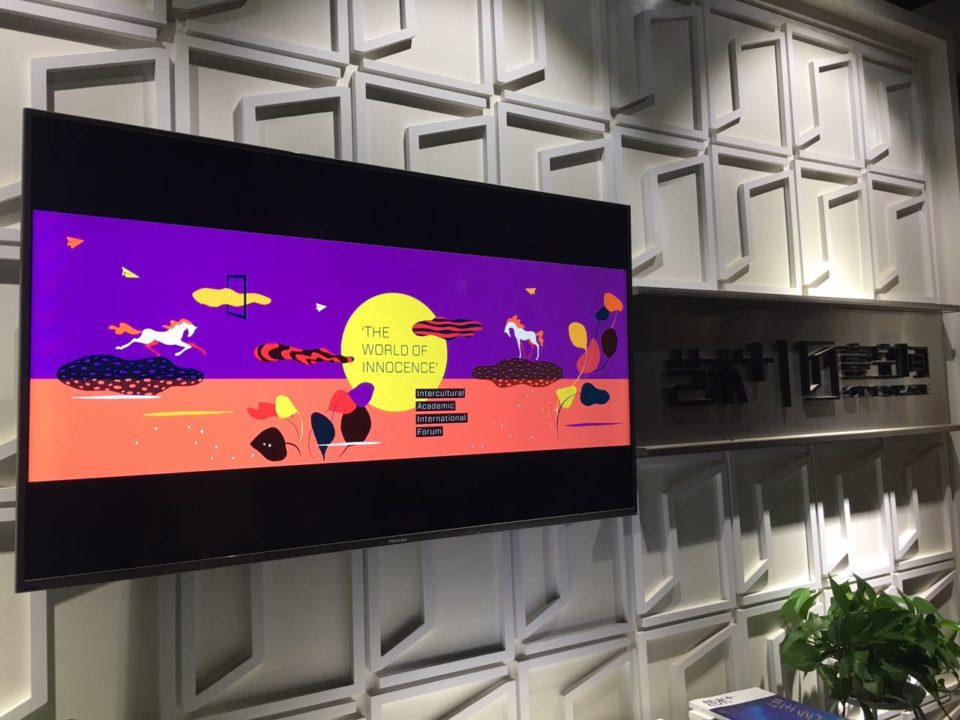 Tema yang disuguhkan pada IAIF 2017 adalah "THE WORLD OF INNOCENCE" Sebuah ruang untuk menginterpretasi dunia yang sama-sama kita huni, merespon dengan kejujuran, harapan, idealisasi, pemikiran dan kenyataan yang dirasakan, menemukan keunikan masing-masing perspektif dan kemiripan antar wilayah dari berbagai pelosok dunia yang perlu dirayakan.
IAIF adalah gagasan sederhana teman-teman dosen School of Design – BINUS University di sela pertemuan mengajar, dari keinginan untuk mempertemukan pelaku desain akademik (dosen & mahasiswa) dari berbagai institusi seni dan desain dari seluruh dunia ke dalam sebuah forum untuk saling bertukar ilmu, mempertunjukkan gagasan, karya serta konsep penciptaan yang memperkaya pengajaran akademik. Forum ini merupakan sebuah wadah untuk berbagi dan harapan untuk turut memajukan serta merekam perkembangan pendidikan seni dan desain. Keterlibatan dan dukungan para pelaku akademik pun diwujudkan secara bergantian melalui kerjasama antar institusi pendidikan, yang juga didukung oleh pelaku industri, baik di dalam atau luar negeri.

'Tak kenal maka tak sayang' menjadi panutan dasar dibentuknya forum ini. Setelah saling mengenal dan berjumpa, maka terbuka kesempatan untuk saling berkunjung antar kampus, melalui program 'student or lecturer mobility' dan kegiatan kolaborasi pun dapat dilaksanakan dalam berbagai bentuk, seperti; pengajaran, lokakarya, pameran, riset bersama antar kampus… yang diharapkan secara perlahan, signikan, dan konsisten akan mendukung 'Academic Reputation' bagi institusi masing-masing yang terlibat.

Terpilih 20 karya dipamerkan di galeri (termasuk 10 karya terbaik) dan 30 karya yang ditayangkan dalam display multimedia… dari sekitar 160 karya yang masuk dari berbagai institusi di dalam dan luar negeri…dan telah dikurasi oleh 9 kurator dari berbagai negara.
IAIF telah 2 kali diselenggarakan (IAIF 2016 di Rumah Seni Arjuna, Jakarta) adalah cikal bakal yang berpotensi menjadi kegiatan rutin tahunan. Sebuah aktitas yang merekam dinamika pencapaianakademik. Sebuah forum yang diharapkan dapat terus berkembang dan tidak hanya mampu mendukung kegiatan belajar mengajar, namun juga mampu mengingatkan para insan pendidik seni dan desain untuk senantiasa terjaga dan selalu peka terhadap laju perkembangan dan fenomena global, menggali kekuatan dan keunikan lokal untuk secara kreatif dimunculkan dan ditawarkan.
photo & video : courtesy by CA BINUS University, Indonesia & HBUT Hubei, China
link web: ca.binus.ac.id/iaif/